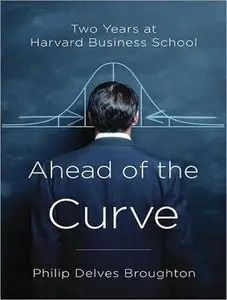 Ahead of the Curve: Two Years at Harvard Business School (Audiobook) By Philip Delves Broughton, read by Simon Vance
Publisher: T.a.n.t.o.r Me.d.ia; Unabridged edition 2008 | 10 hours and 10 mins | ISBN: 1400157137 | MP3 | 261 MB
This debut by a former journalist at the Daily Telegraph of London chronicles the author's love-hate relationship with the Harvard Business School, where he spent two years getting his M.B.A. Beginning with a confessional account of his disillusionment with journalism and conflicted desire to make money, Broughton provides an account of his experiences in and out of the classroom as he struggles to survive the academic rigor and find a suitably principled yet lucrative path. Simultaneously repelled by his aggressive fellow capitalists in training—their stress-fueled partying and obsession with wealth—and dazzled by his classes, visiting professors and the surprising beauty of business concepts, Broughton vacillates between cautious critique and faint praise. Although cleverly narrated and marked by a professional journalist's polish and remarkable attention to detail, this book flounders; it provides neither enough color nor damning dirt on the school to entertain in the manner of true tell-alls. The true heart of the story is less b-school confidential than a memoir of Broughton's quest to understand the business world and find his place in it.
!!!No Mirrors below, please! Follow Rules!