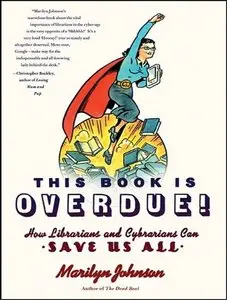 This Book Is Overdue!: How Librarians and Cybrarians Can Save Us All (Audiobook) By Marilyn Johnson, read by Hillary Huber
Publisher: T,an..tor Me.d.ia; Unabridged edition 2010 | 7 hours and 26 mins | ISBN: 1400166349 | MP3 | 214 MB
In an information age full of Google-powered searches, free-by-Bittorrent media downloads and Wiki-powered knowledge databases, the librarian may seem like an antiquated concept. Author and editor Johnson (The Dead Beat) is here to reverse that notion with a topical, witty study of the vital ways modern librarians uphold their traditional roles as educators, archivists, and curators of a community legacy. Illuminating the state of the modern librarian with humor and authority, Johnson showcases librarians working on the cutting edge of virtual reality simulations, guarding the Constitution and redefining information services-as well as working hard to serve and satisfy readers, making this volume a bit guilty of long-form reader flattery. Johnson also makes the important case for libraries-the brick-and-mortar kind-as an irreplaceable bridge crossing economic community divides. Johnson's wry report is a must-read for anyone who's used a library in the past quarter century.
!!!No Mirrors below, please! Follow Rules!