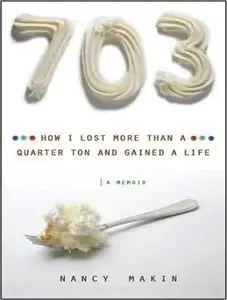 703: How I Lost More Than a Quarter Ton and Gained a Life (Audiobook) By Nancy Makin, read by Coleen Marlo
Publisher: T.a.n,,t.o.r Me,dia; Unabridged edition 2010 | 8 hours and 37 mins | ISBN: 1400167078 | MP3 | 232 MB
Makin lost an enormous amount of weight slowly, carefully, and without fanfare. She now tells her deeply personal story, describing her traditional Catholic middle-class upbringing that was intensified when her family landed in an austere Canadian monastery. Separated from her parents and siblings in an environment commanding submission, Makin rebelled by stealing food. After they returned to "regular life," her weight fluctuated under stress. Teen pregnancy and marriage found her in the habit of trying to make things better via gourmet meals. Her divorce and subsequent downward spiral in finances and health increased feelings of crushing bewilderment. Curiously, a computer provided the unforeseen turning point that brought connection and hope, and, oddly enough, pushed Makin out the door. She started eating right and losing weight while working as a house cleaner. By the time she appeared on Oprah in 2007, she had turned a corner no one expected she would reach. To say that this title is uplifting would be an understatement. Makin offers no plan or formula, just an irresistible story of great personal achievement.
!!!No Mirrors below, please! Follow Rules!