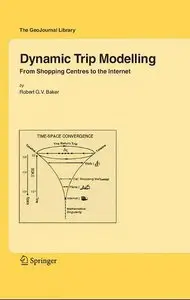 Robert G.V. Baker, "Dynamic Trip Modelling: From Shopping Centres to the Internet"
Publisher: Springer | ISBN: 1402043457 | edition 2006 | PDF | 384 pages | 12,06 mb
Walking from a parked car to a shop, driving to a planned or unplanned shopping centre and virtual exchanges through the Internet are all part of 21st century trips in human activity spaces. Can these diversified types of trips be linked in a common framework?
In a bold and innovative analysis, the author shows how such a diversity of trips can be linked by a universal vision of spatial interaction modelling. He uses one special differential equation, describing exchanges between time lines, to model both real and virtual trips to shopping centres and through the Internet. These theoretical time lines are part of a time-space convergence, a concept that appeared in the time geography literature at the end of the 1960s. Whilst the spatial contexts are different, the process of time exchanges is the same for both real and virtual trips. It is shown how distance decay is fundamental to this type of interaction and is dependent on the time boundary defining the exchange. Time boundaries can be defined as the trading hours of shopping centres or by the rotation of the Earth. The startling conclusion is that distance does matter, not only in walking to shops, but in defining the movement of internet traffic.
Download FREE

filesonic.com





wupload.com





turbobit.net





depositfiles.com



To thank me use my links, please!





My AH blog!



!!! No mirrors please !!!