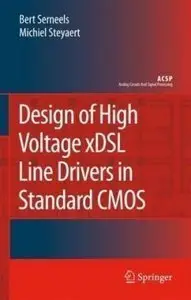 Bert Serneels and Michiel Steyaert, "Design of High Voltage xDSL Line Drivers in Standard CMOS"
S ri ger | Pages: 186 | 2008 | ISBN: 1402067895 | PDF | 2,3 MB
This book fits in the quest for highly efficient fully integrated xDSL modems for central office applications. It presents a summary of research at one of Europe's most famous analog design research groups over a five year period. The book focuses on the line driver, the most demanding building block of the xDSL modem for lowering power.
Download