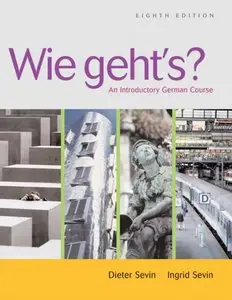 Dieter Sevin, Ingrid Sevin, "Wie geht's?: An Introductory German Course , 8 edition"
H..inle | 2006 | ISBN: 1413012825 | 528 pages | PDF | 24,4 MB
Focused on building linguistic skills and comprehension through creative introductions to contemporary life and cultures in Germn-speaking countries, WIE GEHT'S? Eighth Edition is the clear choice to prepare your students to communicate in German-in and beyond your classroom! Now in its Eighth Edition, WIE GEHT'S? remains one of the most popular introductory German programs in the country. As the authors-both native Germans-show students how the German language actually works, they encourage cultural awareness and the acquisition of a functional vocabulary that effectively prepares students to continue their study of German.
Download