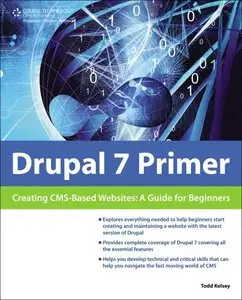 Drupal 7 Primer: Creating CMS-Based Websites: A Guide for Beginners By Todd Kelsey
Publisher: Cou,.,rse Techn,,.ology P.T.R 2011 | 496 Pages | ISBN: 1435459903 | PDF | 12 MB
In the past, in order to make a website, you had to manually assemble all the files and develop a fair amount of technical expertise; however, an open source content management system (CMS) like Drupal can automate and significantly simplify many parts of the process. This book contains an easy-to-understand introduction to related concepts and a series of step-by-step examples that can help you learn how to use Drupal to create and maintain a website. The coverage also includes using a "quick-install" Web hosting account, which can greatly reduce the complexity of installing Drupal. You'll find that this book is written with beginners in mind; no prior expertise is required, except some familiarity with how to browse the Internet and use a PC. By the end of the book, you'll have a working knowledge of content management systems, installing and building a site in Drupal, and various Web promotion tactics that can help you share your new site with the world.
!!!No Mirrors below, please! Follow Rules!