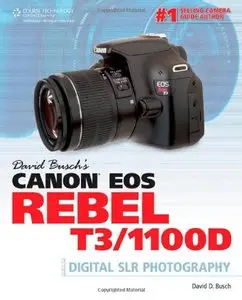 David Busch's Canon EOS Rebel T3/1100D Guide to Digital SLR Photography By David D. Busch
Publisher: Co.,.urse Tech,nol.,ogy P,T,R 2011 | 430 Pages | ISBN: 143546026X | PDF | 12 MB
Rather than rush to be first on the shelves with a cursory overview of the Canon EOS T3, I decided to take some extra time putting together this comprehensive, 400-page guide that answers all the questions that both beginners and more experienced amateurs will have about this sophisticated camera. If you're serious about photography, you need: I know you'll enjoy using your new T3 as much as I have. Sit down with me and let me show you how to get the most from your camera. And if you need a camera-bag-friendly guide to take with you everywhere, I have written a Compact Field Guide for this camera, too.
!!!No Mirrors below, please! Follow Rules!