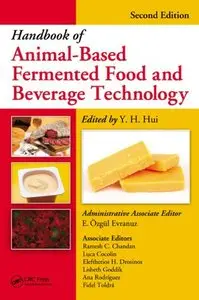 Handbook of Animal-Based Fermented Food and Beverage Technology, Second Edition by Y. H. Hui and E. Özgül Evranuz
English | 2012 | ISBN: 1439850224 | ISBN-13: 9781439850220 | 814 pages | PDF | 36,5 MB
Fermented food can be produced with inexpensive ingredients and simple techniques and makes a significant contribution to the human diet, especially in rural households and village communities worldwide.
Progress in the biological and microbiological sciences involved in the manufacture of these foods has led to commercialization and heightened interest among scientists and food processors. Handbook of Animal-Based Fermented Food and Beverage Technology, Second Edition is an up-to-date reference exploring the history, microorganisms, quality assurance, and manufacture of fermented food products derived from animal sources.
The book begins by describing fermented animal product manufacturing and then supplies a detailed exploration of a range of topics including:
• Dairy starter cultures, microorganisms, leuconostoc and its use in dairy technology, and the production of biopreservatives
• Exopolysaccharides and fermentation ecosystems
• Fermented milk, koumiss, laban, yogurt, and sour cream
• Meat products, including ham, salami, sausages, and Turkish pastirma
• Malaysian and Indonesian fermented fish products
• Probiotics and fermented products, including the technological aspects and benefits of cheese as a probiotic carrier
Fermented food products play a critical role in cultural identity, local economy, and gastronomical delight. With contributions from over 60 experts from more than 20 countries, the book is an essential reference distilling the most critical information on this food sector.