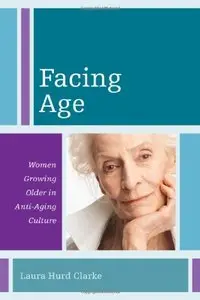 Laura Hurd Clarke, "Facing Age: Women Growing Older in Anti-Aging Culture"
Ro wman & Little field Pub lishers | 2010 | ISBN: 1442207604, 1442207590 | 176 pages | PDF | 1,1 MB
The first book in the new series Diversity and Aging, Laura Hurd Clarke's Facing Age examines the relationship between aging and women in a culture obsessed with youthfulness. From weight gain, to wrinkles, to sagging skin, to gray hair, the book explores older women's complex and often contradictory feelings about their bodies and the physical realities of growing older. Although the women in the book express discontent about their aging visage, they also emphasize the importance of functional abilities and suggest that appearance becomes less central in later life. Drawing on in-depth interviews conducted over a ten year period, Hurd Clarke brings alive feminist theories about aging, beauty work, femininity, and the body. The book also discusses medicine and the aging appearance, with interviews from medical providers and women about treatments such as Botox injections and injectable fillers. This book makes an important and timely contribution to the discussion of gendered ageism and older women's experiences of growing older in a youth-obsessed culture.
Download