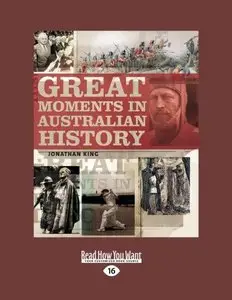 Great Moments in Australian History by Jonathan King
2009 | ISBN: 1742371272, 145960301X | English | 344 pages | PDF | 25.80 MB
Great Moments in Australian History presents an exciting collection of stories about the most colourful highlights and heroes of Australia's history. Pioneering a fresh approach, award-winning author Jonathan King dramatises events to bring each moment vividly to life. Dodge Aboriginal spears as we land with early Dutch explorers; creep by night into an open boat with convict Mary Bryant as she escapes from Botany Bay; sneak into Matthew Flinders' French prison cell as he names Australia; break down doors with the redcoats to arrest Governor Bligh; confront 'Wild White Man' William Buckley as he returns from the dead after 30 years; fight for democracy at the Eureka Stockade; join Ned Kelly in his last shoot-out; ride down mountains with the Man from Snowy River; land with the Anzacs at Gallipoli; gallop across deserts with the Light Horse on history's last successful cavalry charge; fly the first plane from the UK to Australia; climb the steps as our first woman enters parliament; join Bradman on the pitch as he makes history; help soldiers stop Japanese troops advancing down the Kokoda Track; throw a boomerang with the first Aboriginal elected to parliament; feel Whitlam's outrage as he is dismissed; watch the angel of the Bali bombing save lives; and escape the nation's worst bushfires in stories that will take your breath away. Filled with graphic images, the book presents the big picture, from the discoveries of the early explorers to the cut and thrust of modern-day politics. In laying bare events that shaped the nation, it highlights vital turning points that marked the end of an era and the start of something new, showing just how dramatically Australia has changed. Sometimes fact is indeed stranger than fiction.