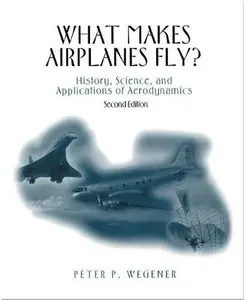 What Makes Airplanes Fly? History, Science, and Applications of Aerodynamics, 2nd edition By Peter P. Wegener
1997 | 260 Pages | ISBN: 1461274745 | PDF | 10 MB
Dealing with aerodynamics in the broadest sense, this book discusses, in addition to aeroplanes, the aerodynamics of cars and birds, and the motion of diverse objects through air and water. The fundamental notions of mechanics and fluid dynamics are clearly explained, while the underlying science is discussed rigorously, but using only elementary mathematics, and then only occasionally. To put the science into its human context, the author describes -- with many illustrations -- the history of human attempts to fly and discusses the social impact of commercial aviation as well as the outlook for future developments. This new edition has been brought up to date throughout; solutions to selected exercises have been added, as have new problems and other study aids.