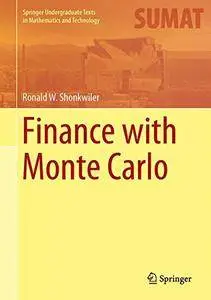 Finance with Monte Carlo (Springer Undergraduate Texts in Mathematics and Technology) by Ronald W. Shonkwiler
English | 18 Sept. 2013 | ISBN: 146148510X | 272 Pages | PDF | 5.05 MB
This text introduces upper division undergraduate/beginning graduate students in mathematics, finance, or economics, to the core topics of a beginning course in finance/financial engineering. Particular emphasis is placed on exploiting the power of the Monte Carlo method to illustrate and explore financial principles. Monte Carlo is the uniquely appropriate tool for modeling the random factors that drive financial markets and simulating their implications.
The Monte Carlo method is introduced early and it is used in conjunction with the geometric Brownian motion model (GBM) to illustrate and analyze the topics covered in the remainder of the text. Placing focus on Monte Carlo methods allows for students to travel a short road from theory to practical applications.