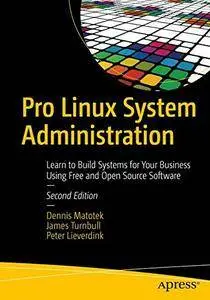 Pro Linux System Administration: Learn to Build Systems for Your Business Using Free and Open Source Software by James Turnbull
English | 15 Mar. 2017 | ISBN: 1484220072 | 1024 Pages | EPUB (True) | 9.17 MB
Implement a SOHO or SMB Linux infrastructure to expand your business and associated IT capabilities. Backed by the expertise and experienced guidance of the authors, this book provides everything you need to move your business forward.
Pro Linux System Administration makes it easy for small- to medium–sized businesses to enter the world of zero–cost software running on Linux and covers all the distros you might want to use, including Red Hat, Ubuntu, Debian, and CentOS. Pro Linux System Administration takes a layered, component–based approach to open source business systems, while training system administrators as the builders of business infrastructure.
Completely updated for this second edition, Dennis Matotek takes you through an infrastructure-as-code approach, seamlessly taking you through steps along the journey of Linux administration with all you need to master complex systems. This edition now includes Jenkins, Ansible, Logstash and more.