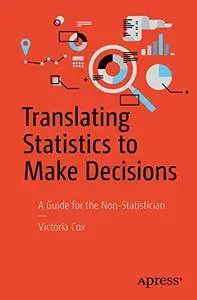 Translating Statistics to Make Decisions: A Guide for the Non-Statistician by Victoria Cox
English | 15 Mar. 2017 | ISBN: 1484222555 | 348 Pages | EPUB (True) | 4.41 MB
Examine and solve the common misconceptions and fallacies that non-statisticians bring to their interpretation of statistical results. Explore the many pitfalls that non-statisticians―and also statisticians who present statistical reports to non-statisticians―must avoid if statistical results are to be correctly used for evidence-based business decision making.
Victoria Cox, senior statistician at the United Kingdom's Defence Science and Technology Laboratory (Dstl), distills the lessons of her long experience presenting the actionable results of complex statistical studies to users of widely varying statistical sophistication across many disciplines: from scientists, engineers, analysts, and information technologists to executives, military personnel, project managers, and officials across UK government departments, industry, academia, and international partners.