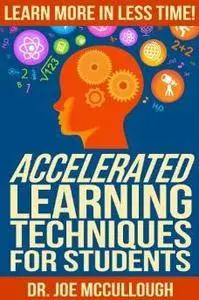 Accelerated Learning Techniques for Students: Learn More in Less Time! by Joe McCullough
English | 2014 | ISBN-10: 1497344026 | 208 pages | ePUB | 1.1 MB
Learn More in Less Time!
Let's face it, we live in a fast-paced world. In order to succeed, you must have the ability to absorb information rapidly, and to think logically and creatively - all at the same time. Students must discover how to conquer the high-pressure challenges of an intensely competitive society. With technology on the rise, knowing how to learn efficiently will be the most important skill you ever possess. Unfortunately, most of us were never taught the actual art of learning. Many students struggle, not because they aren't smart, but because they simply were never taught the rare techniques presented in this book. Well, that's all about to change!
It doesn't matter if you're a top student, or barely passing, you can finally learn more in less time. Accelerated Learning Techniques for Students will show you proven steps to maximize your potential.