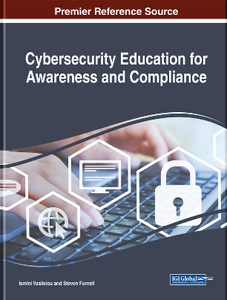 Cybersecurity Education for Awareness and Compliance
by Ismini Vasileiou and Steven Furnell
English | 2019 | ISBN: 1522578471 | 330 Pages | PDF | 4.82 MB
Understanding cybersecurity principles and practices is vital to all users of IT systems and services, and is particularly relevant in an organizational setting where the lack of security awareness and compliance amongst staff is the root cause of many incidents and breaches. If these are to be addressed, there needs to be adequate support and provision for related training and education in order to ensure that staff know what is expected of them and have the necessary skills to follow through.
Cybersecurity Education for Awareness and Compliance explores frameworks and models for teaching cybersecurity literacy in order to deliver effective training and compliance to organizational staff so that they have a clear understanding of what security education is, the elements required to achieve it, and the means by which to link it to the wider goal of good security behavior. Split across four thematic sections (considering the needs of users, organizations, academia, and the profession, respectively), the chapters will collectively identify and address the multiple perspectives from which action is required. This book is ideally designed for IT consultants and specialist staff including chief information security officers, managers, trainers, and organizations.