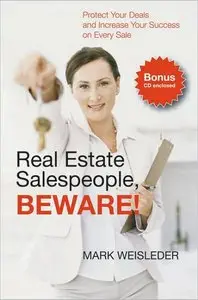 Mark Weisleder "Real Estate Salespeople, Beware!: Protect Your Deals and Increase Your Success on Every Deal"
Ecw Press | English | 2008-04-01 | ISBN: 155022820X | 240 pages | PDF | 1,7 MB
Real estate agents say that buying a house is about location, location, location, but for the agents themselves, real estate is about disclosure, disclosure, disclosure. In this step-by-step guide, agents face problems related to lack of disclosure, improper disclosure, or false disclosure. Real estate lecturer and lawyer Mark Weisleder shows agents how to structure their business in a manner that protects deals, increases success, and keeps agents liability free.
To start download click HERE: