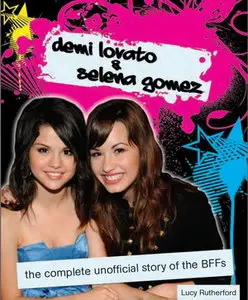 Lucy Rutherford "Demi Lovato and Selena Gomez: The Complete Unofficial Story of the BFFs"
Publisher: Ecw Press 2009 | 160 Pages | ISBN: 155022901X | PDF | 3.4 MB
Packed with plenty of full-color photos, this complete guide to the lives and careers of two of Disney's biggest stars—Demi Lovato and Selena Gomez—details their rise to fame from their early days becoming best friends on the set of Barney and Friends to touring with the Jonas Brothers and finally securing record deals of their own. Including sections on their hit shows Sonny with a Chance and Wizards of Waverly Place as well as Camp Rock, their music, and their upcoming Disney channel original movie Princess Protection Program, this all-inclusive reference explores their family life, what they were like growing up, their first roles, their hit shows and cast mates, and their famous best friends. Going behind the bright lights and glamour, this delightful account reveals the ordinary Texan girls who have remained true to their roots—and to each other.