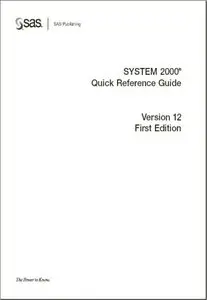 SAS Institute Inc.,"SYSTEM 2000 Quick Reference Guide v12"
Publisher: SAS Publishing | ISBN: 1555441726 | edition January 1, 1992 | PDF | 176 pages | 13.7 mb
Documents all aspects of the QUEUE language, previously documented in the three volumes of ACCESS and QUEUE languages manuals. Used together with the QUEST language manual, this technical report provides complete information for using the QUEUE facility in SYSTEM 2000 software. Also supports Version 12.