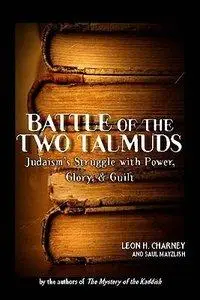 Saul Mayzlish, Leon Charney, "Battle of the Two Talmuds: Judaism's Struggle with Power, Glory, & Guilt"
English | 2010 | ISBN: 1569804397 | 208 pages | EPUB, PDF | 2 MB
The authors reached back into history to understand the reasons and methods brilliant rabbis and Talmudic scholars abandoned the Holy Land, both physically and spiritually, to settle in what came to be known as the lands of the Diaspora. This dramatic exodus was contrary to the biblical injunction that all Jews must live in the land of Israel. The Battle of the Two Talmuds explains in great detail how the Babylonian scholars created their own interpretation of the Torah that grew to take precedence over that of the Jerusalem scholars. This book shows that all human beings are subject in various ways to power, glory, and guilt. It was power, glory, and guilt that has effected the tradition and scholarship of Judaism for the past 2,000 years. The reader learns how these qualities intertwined in a positive way to make Judaism an enduring and vibrant religion.