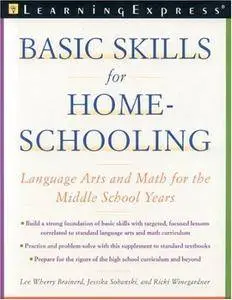 LearningExpress Editors, "Basic Skills for Homeschooling: Reading, Writing, and Math for the Middle School Years"
English | 2007 | ISBN: 1576853950 | PDF | pages: 384 | 1.2 mb
Basic Skills for Homeschooling is a complete overview of the issues surrounding homeschooling through the formative years. This book is designed to provide parents with the information, suggestions, and supplementary lessons they need to be a more effective teacher to their home-middle-schooler. Offering an overview of the academic goals for middle school, the book presents a breakdown of reading, writing, listening, and speaking for socialization, information and understanding, critical analysis and evaluation, literary response, and expression. The book also tutors mathematics, including all the basics, operations and number concepts, fractions and decimals, exponents and roots, algebra (covered in six lessons), and much more. A guide to essential resources completes the book, including the best magazines, books, CD-ROMs and websites for parents and their home learner.