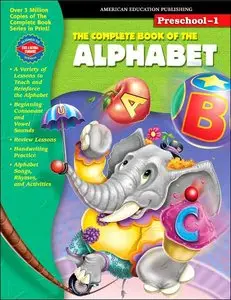 School Specialty Publishing, Vincent Douglas "The Complete Book of the Alphabet (The Complete Book Series)"
American Education Publishing | English | 2004 | ISBN: 1577686039 | 352 pages | PDF | 20 MB
The Complete Book of the Alphabet teaches children in preschool to grade 1 the alphabet with classroom-tested activities. This best-selling 352 page workbook provides motivating lessons that guide children from writing each letter of the alphabet to recognizing each letter of the alphabet and the sounds they make. Concepts are reinforced with puzzles and activity pages. There is also a special section in the back of the book for parents and educators which include songs, rhymes, and activities that further reinforce children's knowledge of the alphabet.
Over 4 million in print! The best-selling Complete Book series offers a full complement of instruction, activities, and information about a single topic or subject area. Containing over 30 titles and encompassing preschool to grade 8 this series helps children succeed in every subject area!
To start download click HERE: