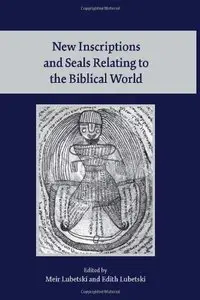 New Inscriptions and Seals Relating to the Biblical World (Archaeology and Biblical Studies) by Meir Lubetski and Edith Lubetski
English | 2012 | ISBN: 1589835565 , 1589837908 | 336 pages | PDF | 3,4 MB
This volume continues the tradition of New Seals and Inscriptions, Hebrew, Idumean and Cuneiform (Sheffield Phoenix, 2007) by featuring analyses by eminent scholars of some of the archaeological treasures from Dr. Shlomo Moussaieffs outstanding collection.
These contributions signal fresh approaches to the study of ancient artifacts and underscore the role of archaeological evidence in reconstructing the legacy of antiquity, especially that of the biblical period. The contributors are Kathleen Abraham, Chaim Cohen, Robert Deutsch, Claire Gottlieb, Martin Heide, Richard S. Hess, W. G. Lambert, André Lemaire, Meir Lubetski, Matthew Morgenstern, Alan Millard, Lawrence J. Mykytiuk, and Peter van der Veen.