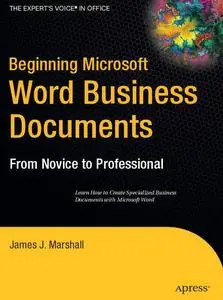 Beginning Microsoft Word Business Documents (Beginning: from Novice to Professional) by James J. Marshall (Author)
Publisher: Apress (September 8, 2006) | ISBN-10: 1590597281 | PDF | 9,7 Mb | 216 pages
Beginning Microsoft Word Business Documents is filled with practical applications of Word's many features. It walks you through the creation of professional documents such as business plans, legal documents, newsletters, and grants. You'll also learn how to use surveys and forms to gather information.
Each chapter of the book may be read on its own–so you can navigate your own learning path. This book focuses on streamlining the document creation process, and timesaving tips will help you work with large documents and use existing documents to create future documents. An intermediate-level knowledge of Word is assumed.