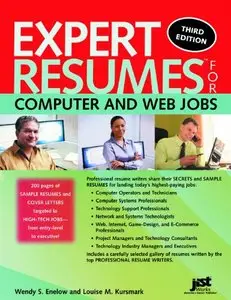 Wendy S Enelow and Louise M Kursmark, "Expert Resumes for Computer and Web Jobs, 3rd Ed"
Ji st W orks | 2011 | ISBN: 1593578113 | 320 pages | PDF | 68,9 MB
Computer and Web jobs account for many of the fastest-growing, best-paying jobs in the world of work. To achieve these lucrative jobs, candidates need an edge one they can easily obtain with the help ofExpert Resumes for Computer and Web Jobs.
This book features an extensive collection of sample resumes and cover letters for computer, Web, and IT professionals. These samples show readers at all levels from entry-level to executive how to create exceptional tools for navigating the job market. In addition, the authors provide sound resume and cover letter writing advice, including a new chapter on how to create and use an electronic resume.
Download