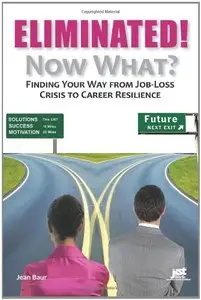 Jean Baur, "Eliminated! Now What?: Finding Your Way from Job-Loss Crisis to Career Resilience"
Jis t Wor ks | 2010 | ISBN: 1593578164 | 240 pages | PDF | 3,1 MB
As the economy struggles and whole sectors wither, millions of people are out of work. Even people who still have jobs are waiting for the axe to fall.
Eliminated! Now What? teaches people how to view their job loss as an opportunity, rather than a crippling dilemma. It explains what to do in the first days following a layoff, how to talk about unemployment with others, and which actions and thoughts will help readers maintain a positive attitude.
Author, Jean Baur, dispels myths and lies associated with job seeking and provides case studies of real people who achieved success after losing their jobs. She equips readers with action steps to overcome obstacles and teaches them how to be resilient in any economy no matter their age or experience.
Download