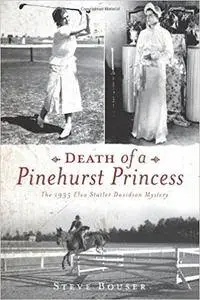 Steve Bouser, "Death of a Pinehurst Princess: The 1935 Elva Statler Davidson Mystery"
ISBN: 159629180X, 1540204340 | 2010 | EPUB | 208 pages | 6 MB
A news media frenzy hurled the quiet resort community of Pinehurst into the national spotlight in 1935 when hotel magnate Ellsworth Statler's adopted daughter was discovered dead early one February morning weeks after her wedding day. A politically charged coroner's inquest failed to determine a definitive cause of death, and the following civil action continued to expose sordid details of the couple's lives. More than half a century later, the story was all but forgotten when local resident Diane McLellan spied an old photograph at a yard sale and became obsessed with solving the mystery. Her enthusiastic sleuthing captured the attention of Southern Pines resident and journalist Steve Bouser, who takes readers back to those blustery winter days so long ago in the search to reveal what really happened to Elva Statler Davidson.