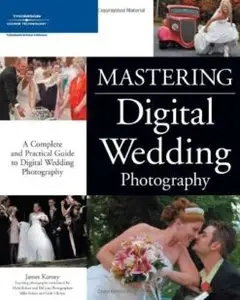 James Karney, "Mastering Digital Wedding Photography"
Publisher: C…se T-gy PTR | ISBN: 1598633295 | 2007 | PDF | 433 pages | 25,85 mb
Mastering Digital Wedding Photography serves as a practical guide to the unique art, craft, and business of wedding photography in the digital realm. Succeeding as a wedding photographer requires more than the ability to take excellent pictures under pressure. You must also develop a solid business and marketing plan that makes you stand out from the crowd in this highly competitive industry. This book addresses each of these fundamental skills. You will conquer hands-on techniques for the shooting of documentary events, making great portraits quickly, and maximizing the quality of your images after they have been captured. You'll also cover the essential topics of workflow and file management and important marketing techniques that will expand your services and grow your business. Whether you are a novice photographer, a seasoned professional adding weddings to your assignment list, or a film photographer transitioning to the digital realm, Mastering Digital Wedding Photography will help you develop the skills you need to capture the magic of each wedding you photograph.
Note 1
: If you can not open the downloaded file, and your Adobe Reader reports on the damaged file, then
update
your Adobe Reader. Lastest version of Adobe Reader opens this book perfectly.
Note 2
: Links not work? Send me
PM
and I'll try to help you.