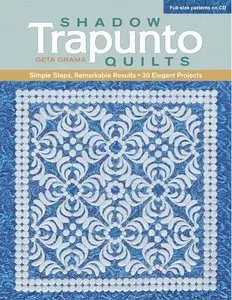 Shadow Trapunto Quilts: Simple Steps, Remarkable Results, 30 Elegant Projects by Geta Grama
2012 | ISBN: 1607052695 | English | 88 pages | PDF | 54.50 MB
Author Geta Grama's passion for fabrics, color and patterns is contagious! You'll be captivated by the elegance and grace of these intricate-looking shadow trapunto quilts—especially once you discover how simple they are to make. The book features 30 projects (postcards, pillows, tablerunners, and wallhanging quilts) with wholecloth, pieced, or appliqué backgrounds, and a variety of shapes, squares, circles, hexagons, octagons, and 12-sided (dodecagon). Patterns to enlarge are given in the book.