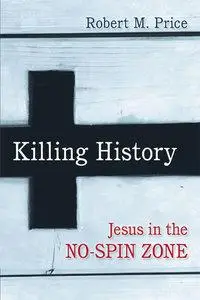 Robert M. Price, "Killing History: Jesus in the No-Spin Zone"
ISBN: 1616149663 | 2014 | EPUB, MOBI | 287 pages | 2 MB
Killing Jesus, the bestselling blockbuster by Bill O'Reilly, claims to be a purely historical account of the events in the life of Jesus leading up to his crucifixion. New Testament scholar Robert M. Price (a member of the Jesus Seminar) shows how unfounded this claim is in this critical review of O'Reilly's work. In fact, he judges the book to be the number one source of misinformation on Jesus today. Ignoring over one hundred years of New Testament scholarship, O'Reilly and his coauthor, Martin Dugard, have produced what Price describes as a Christian historical thriller that plays fast and loose with the facts.
Price goes through the key events of Jesus' later life as described in the gospels and retold in Killing Jesus, painstakingly showing in each case what scholars know and don't know. Using humor, down-to-earth analogies, and witty sarcasm—not unlike O'Reilly's own interview style—Price makes it clear that O'Reilly's book is more historical novel than a work of serious history. By cobbling together the four gospel stories, ignoring the contradictions, and adding plenty of quasi-historical background embellishments, O'Reilly and Dugard have created a good narrative that resonates with a lot of Christians. Entertaining reading this may be, but history it is not.
Killing History provides lay readers with an accessible introduction to New Testament scholarship while showing the many problems in O'Reilly's book.