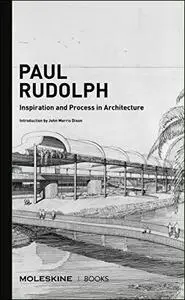 Paul Rudolph: Inspiration and Process in Architecture edited by Eugenia Bell
English | November 5, 2019 | ISBN: 1616898658 | True PDF | 144 pages | 129 MB
Paul Rudolph (1918–1997) authored some of Modernism's most powerful designs and served as an influential educator while chair of Yale's School of Architecture. His early residential work in Sarasota, Florida, garnered international attention, and his later exploration of Brutalist materials nd forms, most famously embodied in his Yale Art & Architecture Building (1963), earned Rudolph both notoriety and acclaim.
Many of the dynamic drawings included in this collection — selected from the architect's archive housed in the Library of Congress — illustrate his highly emotive hand and deft drafting skill. They include his designs for Tuskegee University Chapel, Interama, Lower Manhattan Expressway, his analysis of Mies van der Rohe's Barcelona Pavilion, and his own inventive penthouse on Beekman Place in New York City. A lively Rudolph interview, conducted in 1986, and a newly commissioned introductory essay provide context for the drawings.