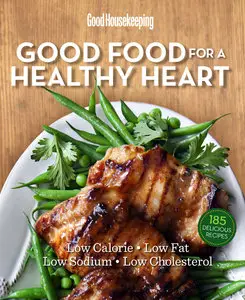 Good Housekeeping Editors, "Good Food for a Healthy Heart: Low Calorie * Low Fat * Low Sodium * Low Cholesterol"
English | ISBN: 1618371495 | 2015 | EPUB | 256 pages | 26 MB
Cook with your heart—FOR your heart! Taking a "stealth health" approach to mealtime, this collection of 185 delicious family-friendly recipes features everyday fare that's low in sodium, calories, and saturated fat. Vegetables, whole grains, lean meats, and fish play a starring role; quick but wholesome breakfast ideas start the day deliciously; and sweet and fruity desserts provide the perfect, satisfying finishing touch. Everything tastes so good, your family will forget it's also good for you!
Feast on such scrumptious dishes as:
Flatiron Steak with Chimichurri Sauce * Pork Roast with Salsa Verde * Chicken Parmesan Stacks * Ginger-Crusted Salmon with Melon Salsa * Glazed Rosemary Lamb Chops * Healthy Makeover Shepherd's Pie * Cauliflower Mac 'n' Cheese * Slimmed-Down Potato Skins * Banana Berry Parfaits * and much more!