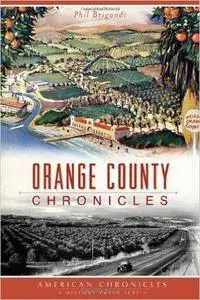 Orange County Chronicles (American Chronicles (History Press)) by Phil Brigandi
English | 2013 | ISBN: 1626191336 | 160 pages | EPUB | 8 MB
Orange County is one of the best-known, yet least understood, counties in California. The popular image of beautiful people in beach cities is certainly accurate. But the Orange County that is often overlooked includes workaday lives in Anaheim, the barrios of Santa Ana, townhouse living in Brea and the diverse communities of Little Saigon, Little Texas, Los Rios, La Habra and Silverado Canyon. Modern Orange County offers very little sense of history, and it sometimes seems as if the urbanization of the 1960s is all that defines the place. Orange County historian Phil Brigandi fills in the gaps with this collection of essays that explores the very creation of the county, as well as pressing issues of race, citrus, attractions and annexation.