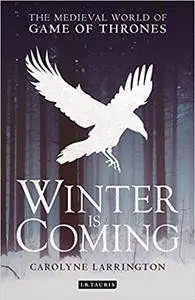 Carolyne Larrington, "Winter is Coming: The Medieval World of Game of Thrones"
2016 | ISBN-10: 1784532568 | 288 pages | PDF | 15 MB
Game of Thrones is a phenomenon. As Carolyne Larrington reveals in this essential companion to George R R Martin's fantasy novels and the HBO mega-hit series based on them the show is the epitome of water-cooler TV. It is the subject of intense debate in national newspapers and by bloggers and cultural commentators contesting the series' startling portrayals of power, sex and gender. Yet no book has divulged how George R R Martin constructed his remarkable universe out of the Middle Ages. Discussing novels and TV series alike, Larrington explores among other topics: sigils, giants, dragons and direwolves in medieval texts; ravens, old gods and the Weirwood in Norse myth; and a gothic, exotic orient in the eastern continent, Essos. From the White Walkers to the Red Woman, from Casterley Rock to the Shivering Sea, this is an indispensable guide to the twenty-first century's most important fantasy creation.