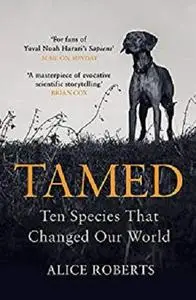 Tamed: Ten Species that Changed our World by Alice Roberts
English | October 19, 2017 | ISBN: 1786090015 | 368 pages | AZW3 | 1.34 MB
**'A masterpiece of evocative scientific storytelling.' BRIAN COX****'Will appeal to fans of Yuval Noah Harari's Sapiens'. Mail on Sunday **The extraordinary story of the species that became our allies.Dogs
became our companions
<b jquery111106502824626925345="280">Wheat fed a booming population
<b jquery111106502824626925345="282">Cattle gave us meat and milk
<b jquery111106502824626925345="284">Maize fuelled the growth of empires
<b jquery111106502824626925345="286">Potatoes brought us feast and famine
<b jquery111106502824626925345="288">Chickens led us to wonder about tomorrow
<b jquery111106502824626925345="290">Rice promised us a golden future
<b jquery111106502824626925345="292">Horses gave us strength and speed
<b jquery111106502824626925345="294">Apples travelled with us
<b jquery111106502824626925345="296">HUMANS TAMED THEM ALL
For hundreds of thousands of years, our ancestors depended on wild plants and animals to stay alive – until they began to tame them.
Combining archaeology and cutting-edge genetics,
Tamed
tells the story of the greatest revolution in human history and reveals the fascinating origins of ten crucial domesticated species; and how they, in turn, transformed
us
. In a world creaking under the strain of human activity, Alice Roberts urges us to look again at our relationship with the natural world – and our huge influence upon it.
AN ECONOMIST AND MAIL ON SUNDAY 'BOOK OF THE YEAR' 2017