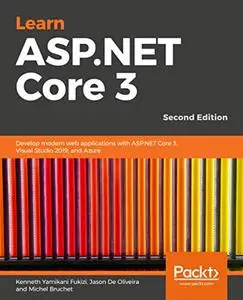 Learn ASP.NET Core 3: Develop modern web applications with ASP.NET Core 3, Visual Studio 2019, and Azure, 2nd Edition by Kenneth Yamikani Fukizi, Jason De Oliveira, Michel Bruchet
English | January 9, 2020 | ISBN: 1789610133 | EPUB/PDF | 627 pages | 16.2/19 MB
A beginner's guide to building fully functioning web applications from scratch using the latest features of ASP.NET Core 3 and C# 8
Key Features
Get to grips with the new features and APIs in ASP.NET Core 3, EF Core 3, and Blazor
Create web APIs that integrate your applications with other systems and services
Learn to deploy your web applications in new environments such as the cloud and Docker containers
Book Description
ASP.NET Core is an open source framework from Microsoft that makes it easy to build highly efficient and dynamic cross-platform web applications. Updated for the latest features of ASP.NET Core 3, this second edition will equip you with the skills you need to build powerful web applications.
The book starts with an introduction to ASP.NET Core and its features, giving you a complete understanding of the framework. You will also learn how to set up your development environment with Visual Studio 2019 and build a fully functioning application from scratch. You ll then understand core concepts for building web applications such as Model-View-Controller (MVC), dependency injection, and WebSockets. As you advance, you ll discover how to use Entity Framework Core 3 to automate all database-related activities for your application. You will then build and document secure Web APIs using security best practices to protect your web applications from threats and vulnerabilities. Finally, you will learn how to use Azure DevOps as a CI/CD tool to deploy and monitor your applications using Microsoft Azure, Amazon Web Services (AWS), and Docker.
By the end of this book, you'll have the skills you need to develop efficient and robust web applications in ASP.NET Core 3.
What you will learn
Delve into basic and advanced ASP.NET Core 3 concepts with the help of examples
Build an MVC web application and use Entity Framework Core 3 to access data
Add Web APIs to your web applications using RPC, REST, and HATEOAS
Create a fully automated continuous integration and continuous delivery (CI/CD) pipeline using Azure DevOps
Use Azure, Amazon Web Services, and Docker to deploy and monitor your applications
Secure your web application from common attacks such as cross-site scripting and SQL injection
Explore client-side development using C# Razor Components
Who This Book Is For
This book is for developers who want to build modern web applications with ASP.NET Core. The book will also be helpful for anyone working in infrastructure engineering and operations to monitor and diagnose problems during the runtime of ASP.NET Core 3.0 web applications. Although no prior understanding of ASP.NET or .NET Core is required, basic C# programming knowledge is assumed.