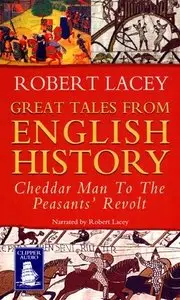 Great Tales from English History, Volume One (Audiobook) By Robert Lacey, read by author
Publisher: W.F. Howes LTD; Unabridged edition 2004 | 5 hours and 48 mins | ISBN: 1845050622 | MP3 | 314 MB
From ancient times to the present day, the story of England has been laced with drama, intrigue, courage and passion -a rich and vibrant narrative of heroes and villains, kings and rebels, artists and highwaymen, bishops and scientists. In Great Tales from English History, historian Robert Lacey captures the most pivotal moments and the stories of the extraordinary characters who helped shape a nation.
!!!No Mirrors below, please! Follow Rules!