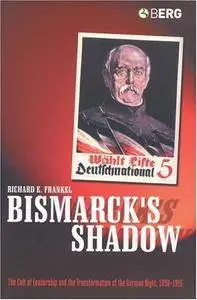 Richard Frankel, "Bismarck's Shadow: The Cult of Leadership and the Transformation of the German Right, 1898-1945"
2004 | pages: 232 | ISBN: 1845200330 | PDF | 0,8 mb
History is a tale often told by ghosts and demi-gods, and our relationship to these figures often determines the shape of the narratives we weave about the past. Bismarck's Shadow targets this idea, as it is a book that unearths a fascinating phenomenon of German political culture - the elevation of a dead political figure, Otto von Bismarck, to the level of a demi-god and the effects of such deification on the course of German politics during the first half of the 20th century.Already a central national symbol during his lifetime, after his death Bismarck became the object of a political religion, what Frankel regards as a 'Bismarck Cult'. This book examines how certain ritual practices and a particular historical understanding - a Bismarckian gospel - provided its followers meaning and direction. Extending beyond the cultural as well, Bismarck's Shadow also looks at how the cult of Bismarck translated into political practice. In Frankel's estimation, the logic of the Bismarckian political religion contributed to the right's progressive radicalization from the turn of the century to the triumph of the Nazis. The image of the deceased figure of Bismarck serves as a tool to investigate the transformation of the German right from a traditional, state-supporting group to a populist, radical nationalist movement like Nazism.Timely and compelling, Bismarck's Shadow raises long overdue questions about the political religion of National Socialism, Germans' perceptions about Bismarck, and the relationship between Otto von Bismarck and Adolf Hitler.
My Link