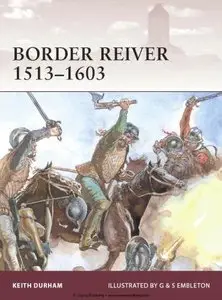 Border Reiver 1513-1603 (Osprey Warrior 154)
Osprey Publishing | 2011 | ISBN-10: 184908193X | ISBN-13: 978 1849081931 | English | 64/66 Pages | PDF scan/e-book | 21/6 MB
Stretching from the North Sea to the Solway Firth, the Border region has a sharply diverse landscape and was a battleground for over 300 years as the English and Scottish monarchs encouraged their subjects to conduct raids across their respective borders. This Warrior title will detail how this narrow strip of land influenced the Borderer's way of life in times of war. Covering every aspect of militant life, from the choice of weapons and armor to the building of fortified houses, this book gives the readers a chance to understand what it must have been like to live life in a late-medieval war zone.