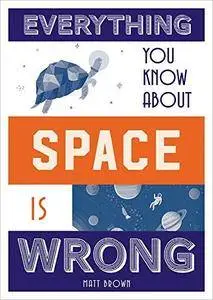 Everything You Know About Space Is Wrong (Everything You Know is Wrong) by Matt Brown
2018 | ISBN: 184994430X | English | 160 pages | EPUB | 7 MB
Matt Brown goes where no one has gone before to bring us an entertaining compendium of amazing facts about our planet, the universe, and everything in between!
Think that the vacuum of space would make your blood boil and your head explode? (It won't.) Or that astronauts float in space because of zero gravity? (No—they're not floating, they're falling.) Thanks to sci-fi films and TV shows, most of us have many misconceptions about the cosmos—from traveling through wormholes to blowing up asteroids. Chock-full of facts about the universe and how it works, this illuminating book guides you through the mine of misinformation to answer such questions as whether we will meet aliens in our lifetime (SETI predicts we'll find evidence of ET by 2040!), what happens in the center of the black hole, and why Mercury is not the hottest planet in the solar system.