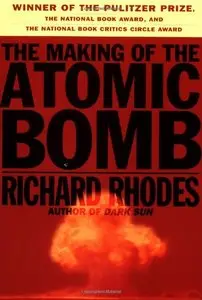 The Making of the Atomic Bomb by Richard Rhodes
Publisher: Simon & Schuster 2000 | ISBN n/a | Language English | Audio CD in MP3 / 80-128kbps | Length: 33hrs 28mins | 1.1 GB
The breadth and scope of this gripping narrative is almost as impressive as the story itself. Rhodes ( Looking for America describes the theoretical origins of the bomb, the lab experiments, the building of the prototype, the test at Alamagordo, the training of the B-29 crews assigned to deliver the first two combat bombs and the missions themselves. There's much more. Rhodes, gifted with sharp psychological insight and a novelist's ability to convey character, reveals the personalities and emotional dynamics among Niels Bohr, Leo Szilard, Enrico Fermi, Edward Teller, Ernest Lawrence, Robert Oppenheimer, General Leslie Groves, Colonel Paul Tibbets and others responsible for conceiving, engineering, testing and ultimately dropping the apocalyptic devices on Hiroshima and Nagasaki. In addition he describes the struggle in Nazi Germany and Imperial Japan to make the first bomb, as well as the political and military events that led inexorably to the destruction of the Japanese cities. This is the most comprehensive and authoritative book on the subject to date.
Thanks to original uploader!


<span style="color:#0000ff"><u>Download from <br />FileSonic</u></span>
<span style="color:#cc0000"><u>or DepositFiles</u></span>
<span style="color:#006600"><u>orWupLoad</u></span>
>>:: NO PASSWORD ::<<
>>::..::!!!NO MIRRORS!!!::..::<<