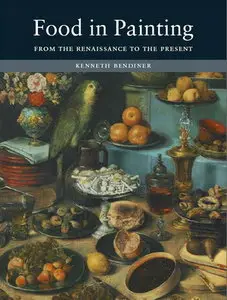 Kenneth Bendiner "Food in Painting: From the Renaissance to the Present"
Publisher: Reaktion Books 2004 | 224 Pages | ISBN: 1861892136 | PDF | 4.7 MB
In this sumptuous exploration of food images in European and American painting from the early Renaissance to the present, Kenneth Bendiner sees food painting as a separate classification of art with its own history. He reconsiders famous works by the likes of Brueghel, Rembrandt, Chardin, Manet and Warhol, and intriguing paintings by lesser-known artists, such as Adriaen Coorte and Peter Blume. The book underlines the central importance of 16th-century innovations in food subjects, and the great influence of 17th-century Dutch food paintings in the development of food imagery.
Kenneth Bendiner shows how myth, religion, medical theories and traditional social privileges can determine the meaning of food imagery. He covers aphrodisiacs, bottled water, menus, antisocial eating scenes, dogs in the dining room and many other visual representations relating to food. He also deals with images of food that are purely symbolic, the sexual references of surrealist food art and food as a marginal element in allegories. He illustrates the optimistic, human-centered, Renaissance spirit of food, and the way abundance, success and fulfillment pervade this art.
Drawing together two pleasurable and engrossing subjects-eating and handsome paintings-Bendiner offers up a tempting and irresistible feast of facts and images. Those who want to learn about the history of food, as recorded in images, will find the book rewarding. And those who wonder what Brueghel's peasants are eating or why Chardin decorated a brioche with an orange blossom will find their understanding of art history enriched.
Kenneth Bendiner is professor of art history at the University of Wisconsin-Milwaukee and is the author of An Introduction to Victorian Painting (1985) and The Art of Ford Madox Brown (1998).