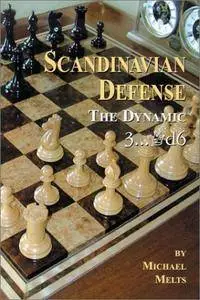 Michael Melts, "Scandinavian Defense: The Dynamic 3… Qd6"
2001 | pages: 217 | ISBN: 1888690119 | PDF | 14,0 mb
Every chess player needs a defense to 1 e4, the most popular first move for White. The ideal response is the easy-to-learn, unrefuted and surprising Scandinavian Defense: The Dynamic 3 Qd6 is such a system. It gives players room for creativity and offers strategic ideas they can understand quickly. With brand-new analysis, correspondence master Michael Melts shows that this long-nelglected line is a little-known but venomous response lying in wait for unsuspecting players of White. For beginners, to master- and international-level competitors, the opening covered in this volume offers a complete system against 1 e4. GMs Roman Dzindzichashvili, Kiril Georgiev, legendary world championship contender David Bronstein and dozens of other top players have called on this variation for important encounters. Forty complete and deeply annotated games are presented along with the relevant portions of hundreds of other contests.
My Link