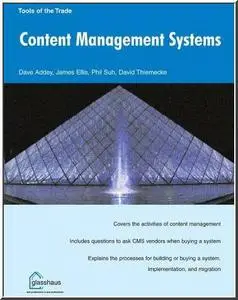 Content Management Systems (Tools of the Trade) by Dave Addey (Author), James Ellis (Author), Phil Suh (Author), David Thiemecke (Author)
Publisher: Peer Information Inc.; 1st edition (August 2002) | ISBN-10: 190415106X | CHM | 1,8 Mb | 272 pages
Content Management Systems (CMS) automate the process of creating, publishing, and updating web site content. They make maintaining and updating the content of a web site easier, giving the content contributors, not just the web team, the means with which to manage their own content. They are usually made up of a front-end editor for inputting content, a back-end system for storing the content, and a template mechanism to get the content onto the web site.