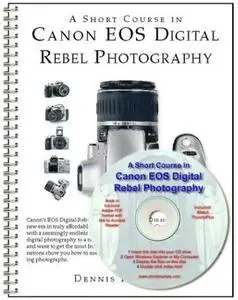 A Short Course in Canon EOS Digital Rebel Photography (book/ebook) (Spiral-bound) by Dennis Curtin (Author)
Publisher: ShortCourses.com (September 2003) | ISBN-10: 1928873421 | PDF | 49 Mb | 240 pages
This book/eBook package is your guide to getting more interesting and creative photos with your Canon EOS Digital Rebel digital camera–called the EOS 300D in some countries. If you want to learn more about the concepts of photography, this book/ebook is for you. It discusses every camera setting in a clear, well-illustrated style, but it also does much more. You'll see why and when you use specific settings, not just how to set them. You'll find that this guide helps you quickly master your camera so you'll be getting the kinds of photos you hope for. The book is printed in black & white and has a well-liked spiral binding that lets the book lie flat or be folded back. The accompanying eBook on a CD disc is a printable and searchable full-color version of the same book in Adobe's popular PDF format. It can be read on a PC or Mac using the free Acrobat Reader or any current Web browser.