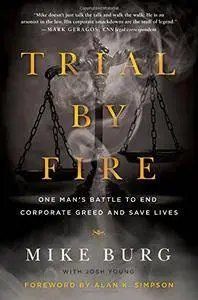 Mike Burg, "Trial by Fire: One Man's Battle to End Corporate Greed and Save Lives"
English | ISBN: 1942952562 | 2016 | PDF | 336 pages | 174 MB
In the face of corporate bullies, one lawyer's passion and persistence paid off.
Bullied as a Jewish kid in the hardscrabble neighborhoods of Chicago, Mike Burg had to learn how to fight at a young age. As an adult who started his own law firm from scratch that fire—and understanding of the underdog—still burns and makes him one of America's top trial lawyers fighting for consumers' rights.
In Trial by Fire: One Man's Battle to End Corporate Greed and Save Lives, read about Burg's unwavering personal constitution to stand up for the weary, the weak, and the downtrodden at all costs. Follow the justice as he takes on a negligent gas company and wins not only financial settlement for victims but dramatic changes to a city's pipelines to save thousands of lives. Cheer him on as he leads hundreds of individuals against companies shilling drugs such as Fen-Phen, Yaz, Zyprexa, and Pradaxa. Empathize with him as he fights an eight-year battle against UBS Warburg for knowingly selling risky mortgages to investors before collecting compensation. Root him on as he files a sweeping action against 28 California wineries to force them to stop selling toxic wine contaminated with arsenic.
Representing everyone from the Little Rascals to Ralph Tamm in the first NFL steroid case, Burg has lived a thousand lives. Trial by Fire shows that, like with every victory in the courtroom, he doubles down for the next adventure. Performing stand-up comedy alongside Roseanne Barr, golfing with Michael Jordan, and attending President George W. Bush's inauguration with President Bush's father, Burg has a story to tell.
His undeniably explosive personality and inspiring tale—complete with theatrics, eccentricities, excitement, humor, and maybe just a hint of craziness—will make you laugh, leave you in disbelief, and, most of all, inspire you.