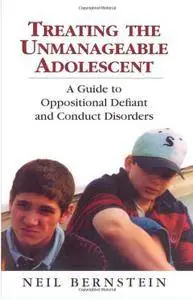 Neil I. Bernstein - Treating the Unmanageable Adolescent: A Guide to Oppositional Defiant and Conduct Disorders
Published: 2000-11-01 | ISBN: 1568216300 | PDF | 368 pages | 14.6 MB
The problem of the out-of-control teenager demands immediate and effective attention from clinicians. As American town after town enacts curfew laws for minors and more and more teachers send youths for treatment, therapists are faced with an epidemic for which they often feel ill-prepared. In this book of nuts-and-bolts treatment approaches, mental health professionals are shown how to successfully help defiant and conduct-disordered young people who present with an array of symptoms including chronic truancy, drug abuse, dangerous sexual activity, and poor peer relationships.
Drawing on individual, cognitive-behavioral, group, and family approaches, the book emphasizes the process of diffusing the resistance to change and facilitating treatment compliance. The focus is on understanding as well as altering the rage, sense of entitlement, lack of self-control, and disregard for the rights of others. In particular, the book covers how to
* engage and motivate these youths
* teach patients anger management skills
* conduct group exercises and role play prosocial behavior
* work with empathy-induced guilt to promote change
* manage anticipated disruptions
* use therapist self-disclosure to enhance the therapeutic process
* foster resilience in the "at-risk" population.
To date, no single approach has consistently interrupted the pattern of escalating conflicts and the violations of social norms occurring in this difficult-to-treat population. Each of the prevailing schools of thought makes a contribution to the remediation process but falls short of integrating the diverse interventions available. By presenting a variety of interventions targeting the central deficiencies and systemic dysfunction in the lives of these youths, this book provides clinicians with what they need to make a difference in the lives of troubled young people and those around them.