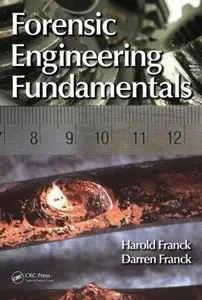 Forensic Engineering Fundamentals By Harold Franck, Darren Franck
2013 | 487 Pages | ISBN: 1439878390 | PDF | 38 MB
Forensic engineers often specialize in a particular area such as structures, fires, or accident reconstruction. However, the nature of the work often requires broad knowledge in the interrelated areas of physics, chemistry, biomechanics, and engineering. Covering cases as varied as assessment of workplace accidents to the investigation of Halliburton in the BP oil spill, Forensic Engineering Fundamentals is a comprehensive introduction to the many diverse facets of the field that forensic engineers must be familiar with in their practice. Probability and uncertainty, with some basic calculations available to the forensic engineer Applicable standards and protocols that have developed over the years to protect life and property Offering readers real-world experience drawn from the authors' 25 years of experience, this volume assists newcomers to the field in understanding the engineering basics underlying the cases they will encounter in their practice. It also serves as a reliable reference for those confronted with issues outside their area of expertise.