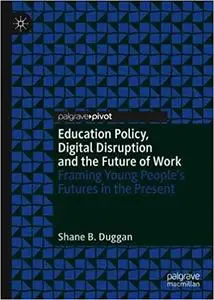 Shane B. Duggan, "Education Policy, Digital Disruption and the Future of Work: Framing Young People's Futures in the Present"
English | ISBN: 3030306747 | 2019 | 152 pages | EPUB, PDF | 722 KB + 2 MB
This book examines the possibilities, practices and consequences of digital disruption and networked economies in education policy. As traditional notions of learning and labour are abstracted by networked technologies, young people are exposed to new forms of governance and intervention. Tracing key education policy shifts from the turn of the millennium to the present day, this book explores notions of value, aspiration, and equity in the context of the rise of the networked economies and the 'end of work'. It argues that a policy focus on preparing young people for the future – a future that will be dominated by networked technologies – informs both what counts as 'success`, and reorganises young people's orientation in the present in new commodified forms. In an era where the costs of higher education are rapidly increasing despite their relative decline in value, this book will resonate with scholars in youth and educational studies, as well as those with an interest in emerging forms of labour and work.